URC Commitment to Anti-Racism, Equity and Inclusion
The Undergraduate Research Center (URC) is committed to confronting racism and institutional oppression to create an equitable and inclusive community for students, staff, and faculty.  We honor and recognize that research, scholarship and creative activities are enhanced by contributions from individuals with various backgrounds, perspectives and experiences.
Read Full Statement
NEWS and EVENTS

The Undergraduate Research Center announces the continuation of the UC Davis "Research Rockstars" Undergrad Slam video contest for undergraduate researchers to showcase their research, scholarship or design project and win up to $500!!  This contest is open to all students in all disciplines! 
DEADLINE:  MAY 12, 2021, 11:59 p.m.
---
NSF CAMP Scholars Showcase their Research in the 2021 NSF LSAMP/CAMP Statewide Virtual Symposium 
UC Davis students, faculty, administrators and staff celebrated the accomplishments of undergraduate research scholars from across the state at the 2021 NSF LSAMP/CAMP Statewide Virtual Research Symposium (see linked video), featuring research presentations of CAMP Scholars from 9 UC campuses, with 12 scholars from UC Davis participating.
---
ARTICLE: TAKING A HANDS-ON APPROACH: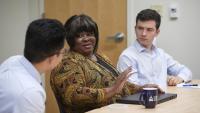 Cheryl Purifoy, director of the UC Davis Washington Program, believes in the power of mentorship and hands-on experience to help equip students for their futures. 
---
VIRTUAL TRAVEL AWARD: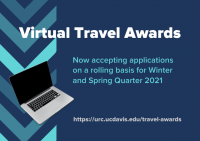 Our Virtual Conference "Travel" Award will support registration costs (up to $250) for undergraduate students to attend virtual conferences, professional development events or workshops related to your research, scholarship and creative activities. Applications accepted on a rolling basis.  Learn more
---
URConnections Newsletter - Check out the latest editions of the URC newsletter!