URC Commitment to Anti-Racism, Equity and Inclusion
The Undergraduate Research Center (URC) is committed to confronting racism and institutional oppression to create an equitable and inclusive community for students, staff, and faculty.  We honor and recognize that research, scholarship and creative activities are enhanced by contributions from individuals with various backgrounds, perspectives and experiences.
Read Full Statement
NEWS and EVENTS
AWARD DEADLINES:  Don't miss these opportunities!
The Provost's Undergraduate Fellowship (PUF) supports undergraduate students doing research or creative projects under the guidance of UC Davis faculty members. Students from all discipline areas are eligible to apply.  Applicants need to be enrolled during the time of the research project. 
The Chancellor's Award for Excellence in Undergraduate Research, coupled with the Dean Keith Simonton Prize ($500.00) is an annual award instituted in 1994. The award recognizes outstanding undergraduate students for their research, scholarship or creative activity tied to any academic subject and performed while at UC Davis.  Successful submissions should clearly demonstrate and effectively communicate the outstanding contributions to research and discovery in their discipline, with an emphasis on the student's independent contributions. Nominations are also accepted for the Chancellor's Award for Excellence in Mentoring Undergraduate Research.
NSF CAMP Scholars Showcase their Research in the 2021 NSF LSAMP/CAMP Statewide Virtual Symposium 
UC Davis students, faculty, administrators and staff celebrated the accomplishments of undergraduate research scholars from across the state at the 2021 NSF LSAMP/CAMP Statewide Virtual Research Symposium (see linked video), featuring research presentations of CAMP Scholars from 9 UC campuses, with 12 scholars from UC Davis participating.
---
MURALS (Mentorship for Undergraduate Research in Agriculture, Letters, and Science) 
MURALS is recruiting for Fall 2021! Mentorship for Undergraduate Research in Agriculture, Letters, and Science (MURALS) is a pre-graduate opportunity program designed to enrich the research
experience of students situationally disadvantaged in their access to graduate school.
Click here to learn more about our program. You can make an appointment with Raynell Hamilton to learn more about the program requirements.
APPLY HERE
---
ARTICLE: TAKING A HANDS-ON APPROACH: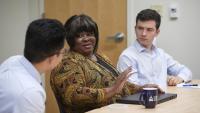 Cheryl Purifoy, director of the UC Davis Washington Program, believes in the power of mentorship and hands-on experience to help equip students for their futures. 
---
VIRTUAL TRAVEL AWARD: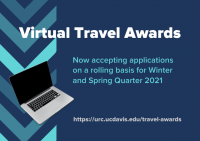 Our Virtual Conference "Travel" Award will support registration costs (up to $250) for undergraduate students to attend virtual conferences, professional development events or workshops related to your research, scholarship and creative activities. Applications accepted on a rolling basis.  Learn more
---
URConnections Newsletter - Check out the latest editions of the URC newsletter!