APRIL 26 and 27, 2019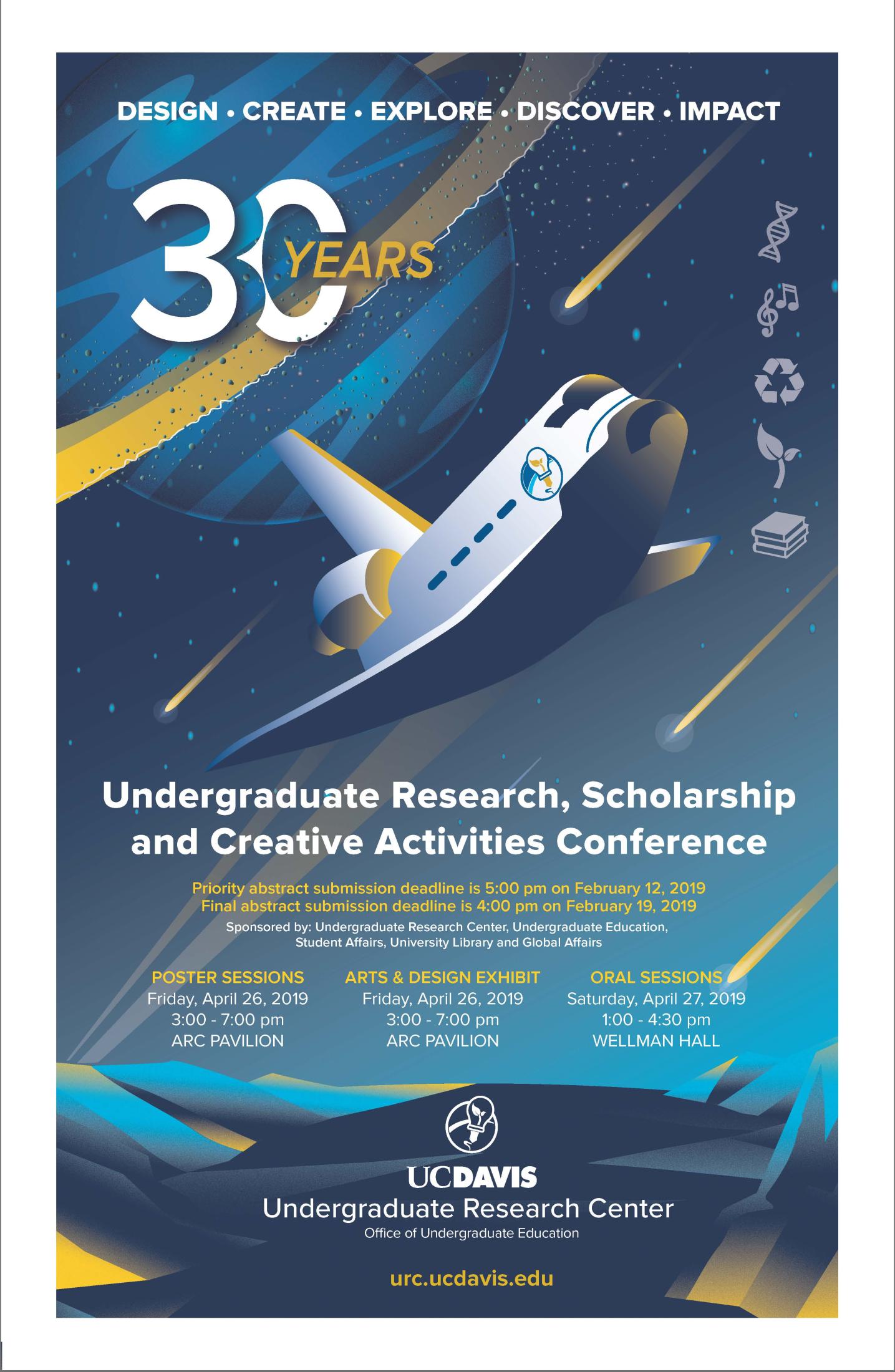 POSTER SESSIONS:  Friday, April 26, 2019, 3:00 - 6:00* p.m., ARC PAVILION
ARTS & DESIGN EXHIBIT:  Friday, April 26, 2019, 3:00 - 6:00* p.m., ARC PAVILION
ORAL SESSIONS & PERFORMING ARTS :  Saturday, April 27, 2019, 1:00 - 4:30 p.m., WELLMAN HALL
*Note:  Ending time for Poster Sessions and Arts & Design Exhibit on 4/26 has been updated to 6:00 p.m.
Abstract submission site opens Jan. 7, 2019
PRIORITY DEADLINE: 5:00 pm, February 12, 2019
FINAL DEADLINE:  4:00 pm, February 19, 2019
THE CONFERENCE IS OPEN TO THE PUBLIC AND ATTENDANCE IS FREE!  
About the Conference
UC Davis undergraduates in all academic fields are invited to submit an abstract and registration information to participate in the Undergraduate Research, Scholarship and Creative Activities Conference. Research projects must have been conducted under the supervision of a faculty member or professional in the field. The conference is designed to acquaint undergraduates with the process and academic rigors of presenting research in a scholarly manner.
Additionally, the conference will stimulate interaction between students and faculty, while encouraging undergraduates to pursue advanced degrees toward the goal of research and college teaching.
Students will present their research projects to faculty, staff and other conference participants in either an oral or poster format. The oral presentation will allow students to give a 15-minute presentation of their topic and includes time for questions. Each oral session will be moderated by a faculty member. In the poster session, students will have designed a visual poster representing their research and will be presenting their work to individual conference participants over a 60 minute session.
While participating in research provides excellent preparation for graduate study, presenting your work at this conference will further enhance your experience and become even more valuable as you are considered for admission to graduate or professional schools. Each student selected to be a presenter will be individually recognized for his/her contribution to university academic achievement.
The Undergraduate Research, Scholarship & Creative Activities Conference is organized by a campus-wide committee and chaired by Elizabeth Nuñez, Undergraduate Research Center, with support from Undergraduate Education, Student Affairs, Global Affairs and University Library.
For all questions, please E-mail us.
Abstract Books
2017 Abstract Book           2013 Abstract Book 
2016 Abstract Book           2012 Abstract Book 
2015 Abstract Book           2011 Abstract Book