About NSF LSAMP/CAMP
Program Overview
Funded by the National Science Foundation (NSF), California Louis Stokes Alliance for Minority Participation (CAMP) represents the California branch of the Louis Stokes Alliance for Minority Participation (LSAMP) program. CAMP is hosted on nine of the UC campuses, with the lead campus for the California Alliance centered at UC Riverside (CAMP Statewide). The LSAMP program assists universities and colleges in their efforts to significantly increase the numbers of students matriculating into and successfully completing high quality degree programs in science, technology, engineering and mathematics (STEM) disciplines in order to diversify the STEM workforce. Particular emphasis is placed on transforming undergraduate STEM education through innovative, evidence-based recruitment and retention strategies, and relevant educational experiences in support of racial and ethnic groups historically underrepresented in STEM disciplines: African Americans, Hispanic Americans, American Indians, Alaska Natives, Native Hawaiians, and Native Pacific Islanders.  The shared experience of building community and presenting research at conferences impacts persistence, social-emotional parameter, and graduation rates in STEM fields. These combined strategies facilitate the production of well-prepared students highly-qualified and motivated to pursue graduate education or careers in STEM.
LSAMP/CAMP at UC Davis aims to recruit and retain students in STEM majors, facilitate their academic success, and encourage their transition to graduate study.  Faculty-mentored research experiences play a large role in the program and LSAMP/CAMP Scholars actively participate in research during the summer and throughout the academic year.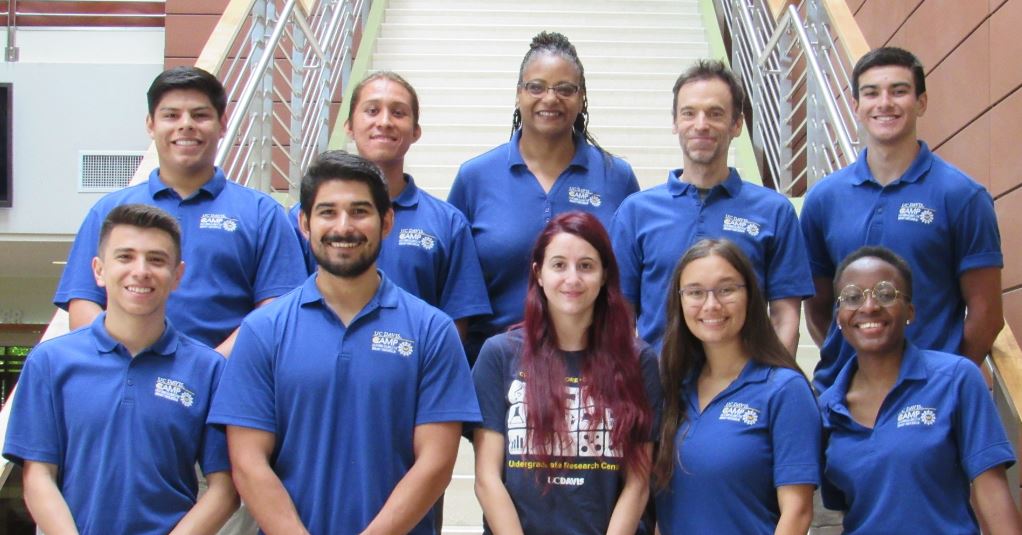 NSF LSAMP/CAMP 2019 Summer Program Participants
Program Eligibility
To qualify for the NSF LSAMP/CAMP Program students must meet the following criteria:
Students must:
Be African American, Chicano, Latino, Native American, or Pacific Islander

Be a declared Science, Technology, Engineering or Mathematics (STEM) major

Be a full-time second-year, or rising third, fourth, or fifth year UC Davis student in good academic standing

(transfer students currently at UC Davis are encouraged to apply)

Have and maintain at least a 2.70 UC cumulative GPA

Be a US Citizen or Permanent Resident

Be interested in research (note: you do not have to have previous research experience to apply to this program)
Priority consideration is given to students who:
Are first-generation college students (neither parent nor legal guardian has a Bachelor's degree)

Intend to pursue a Masters or Ph.D. after graduation. 

This program is not open to students intending to pursue professional degrees such as medicine, dentistry, veterinary medicine, management, or law.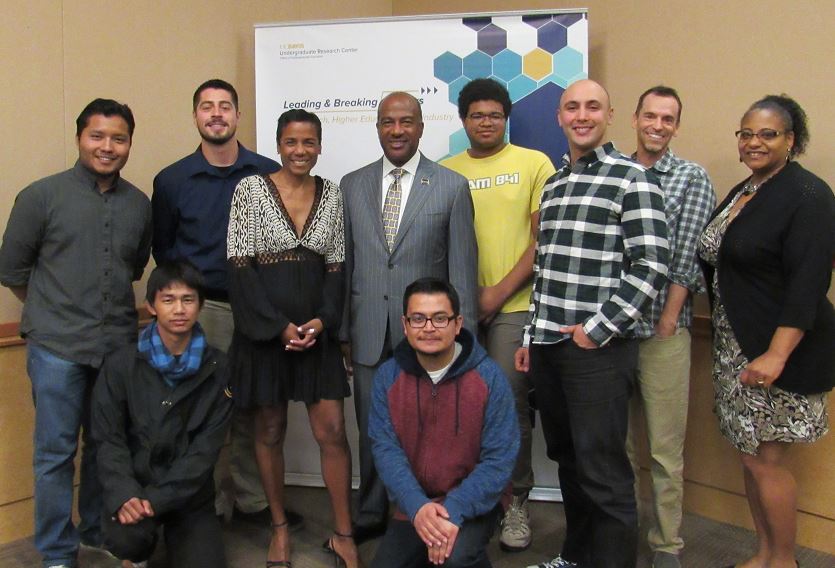 Scholars are photographed with Chancellor Gary and Leshelle May at the Leading and Breaking Barriers Speakers Series event.
Program Benefits
NSF LSAMP/CAMP offers the following benefits:
Faculty research mentors

 help students formulate their research interests and develop their research skills.  Faculty also write stellar letters of recommendation for students applying to graduate school.

Students gain extensive research experience

(year round)

, including help choosing a faculty research mentor

Academic and professional development workshops and seminars

 provide information on such topics as scientific communication, creating a scientific poster, strengthening academic and communication skills, and more

Individual academic and holistic advising/coaching

 is

provided for each student several times throughout the quarter

Students gain leadership, communication, and presentation skills

Students

build

their

STEM research identity/profile

Educational, social and networking enrichment opportunities are provided to scholars

Community building experiences are offered

to

students (and faculty) with similar academic, personal, and professional interests

A summer research program

 provides students the opportunity to work closely with a faculty mentor during the summer

Scholars receive quarterly and summer research stipends (scholars only)
Scholars participate in a UC-Wide CAMP Symposium, the Undergraduate Research Conference, and other conferences and symposia

Graduate school field trip

opportunities are available to participants

Participants are Bridge to the Doctorate eligible
Financial Support for Scholars
$800/quarter

Summer stipends range from $500-$3,200 (TBD based on options for summer programming)