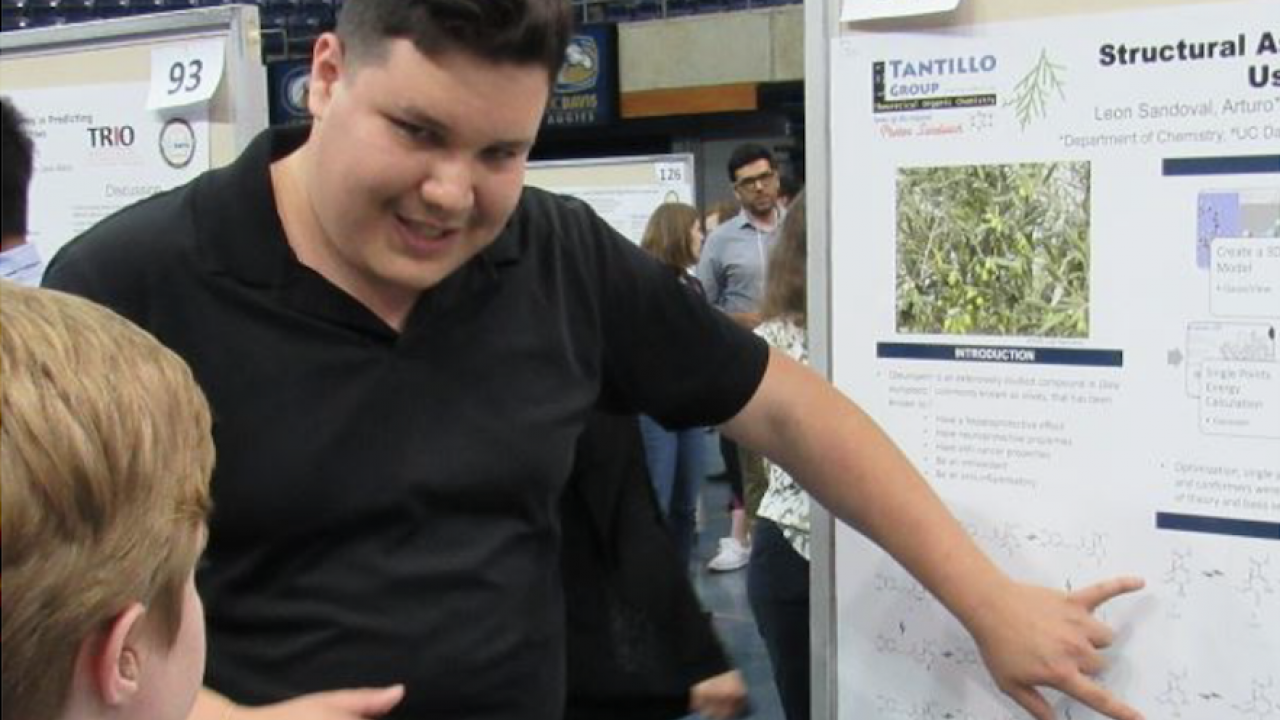 Arturo Leon Sandoval
Pharmaceutical Chemistry, 2018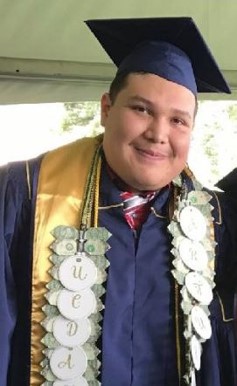 Graduate School: University of Connecticut
Focus of Study: Pharmaceutical Chemistry
Grad School Program: Organic Chemistry PhD Program
Hometown:  Woodland, CA
Where are you now?  I currently live in Mansfield area in Connecticut
Three words to describe me: Hard-Working, Down-to-Earth, Quick Learner
Arturo León Sandoval graduated from UC Davis in 2018 with a B.S. degree in Pharmaceutical Chemistry after transferring from American River College.  He was a member of MURPPS during his time at UC Davis where he found a lab that greatly inspired him.  Working with Dr. Dean Tantillo as an undergrad motivated him to apply to graduate school.  His research investigated the structural assignment of Oleuropein Aglycone using computational NMR.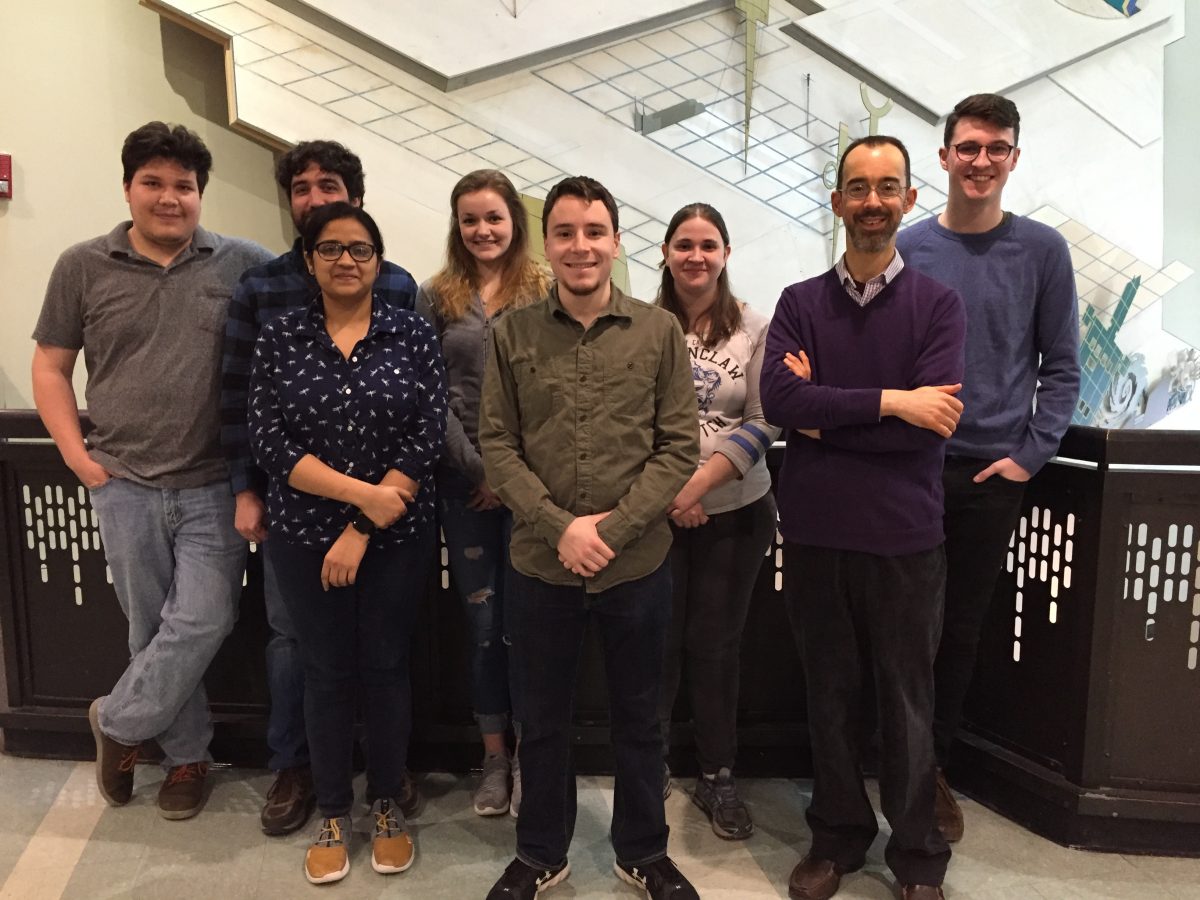 In what ways has engaging in undergraduate research impacted your future goals and plans?
It encouraged me to pursue a PhD, and that there is more to what we learn in class and in books.
What advice do you have for other undergraduate students seeking research experiences?
Don't be scared if you don't know much, you will learn as you go.
Arturo had this to say about the MURPPS program:    
"Being part of MURPPS was a pleasantly surprising experience. Through MURPPS we were encouraged to step out of our comfort zone. Being pushed is a nice feeling in a campus where professors are not always available or checking with you. Having to work outside of school made it difficult to create a network at UC Davis during my first three quarters, but through MURPPS I got to meet and become friends with the other members of not only MURPPS but also CAMP. It was thanks to MURPPS that I learned about University of Connecticut and that I obtained an application fee waiver. Words cannot express my gratitude to Lolita and Richard for making MURPPS the program that it currently is." – ARTURO LEON SANDOVAL – Pharmaceutical Chemistry, MURPPS 2017-2018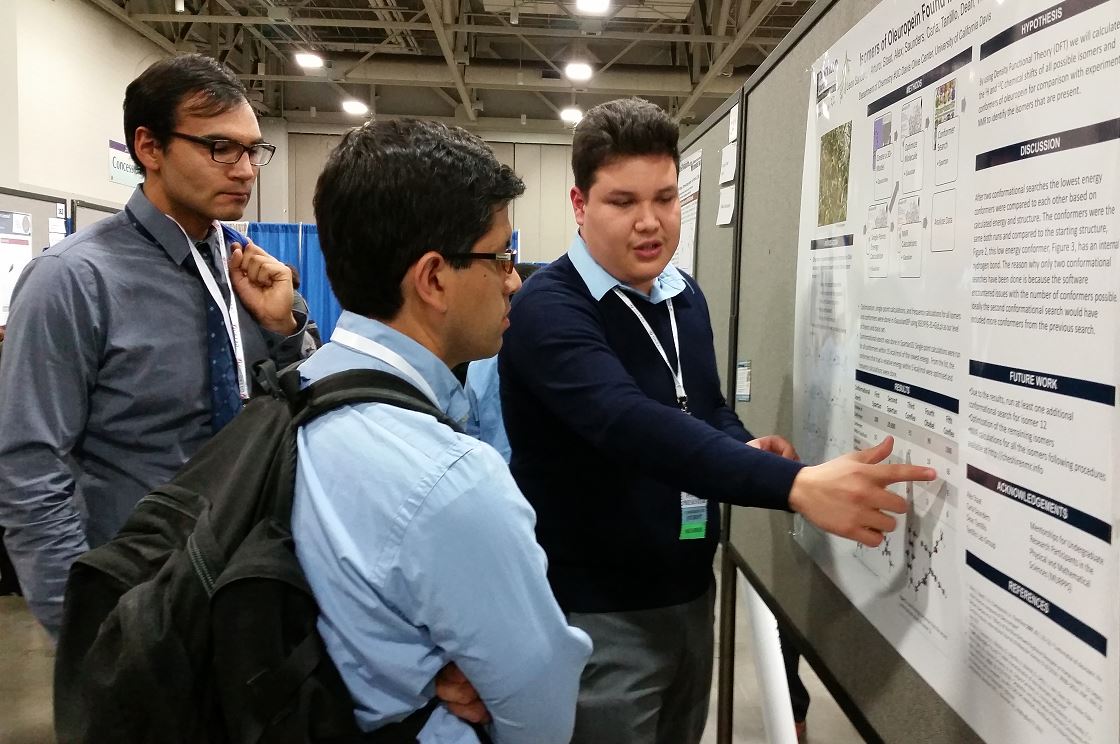 Arturo Leon Sandoval presenting at the 2017 SACNAS Conference
Another quote from Arturo:
"Through MURPPS we were encouraged to step out of our comfort zone. Being pushed is a nice feeling in a campus where professors are not always available or checking with you. Having to work outside of school made it difficult to create a network at UC Davis during my first three quarters, but through MURPPS I got to meet and become friends with the other members of not only MURPPS but also CAMP." – ARTURO LEON SANDOVAL – Pharmaceutical Chemistry, MURPPS 2017-2018
Tags