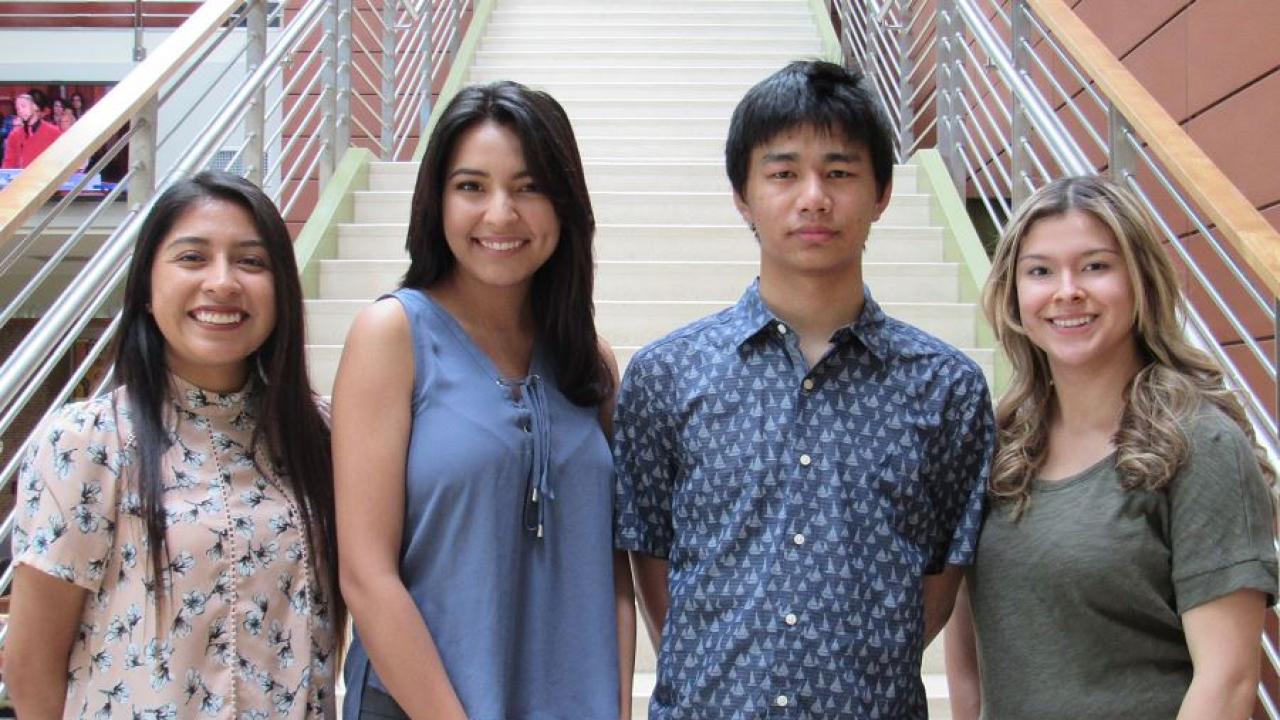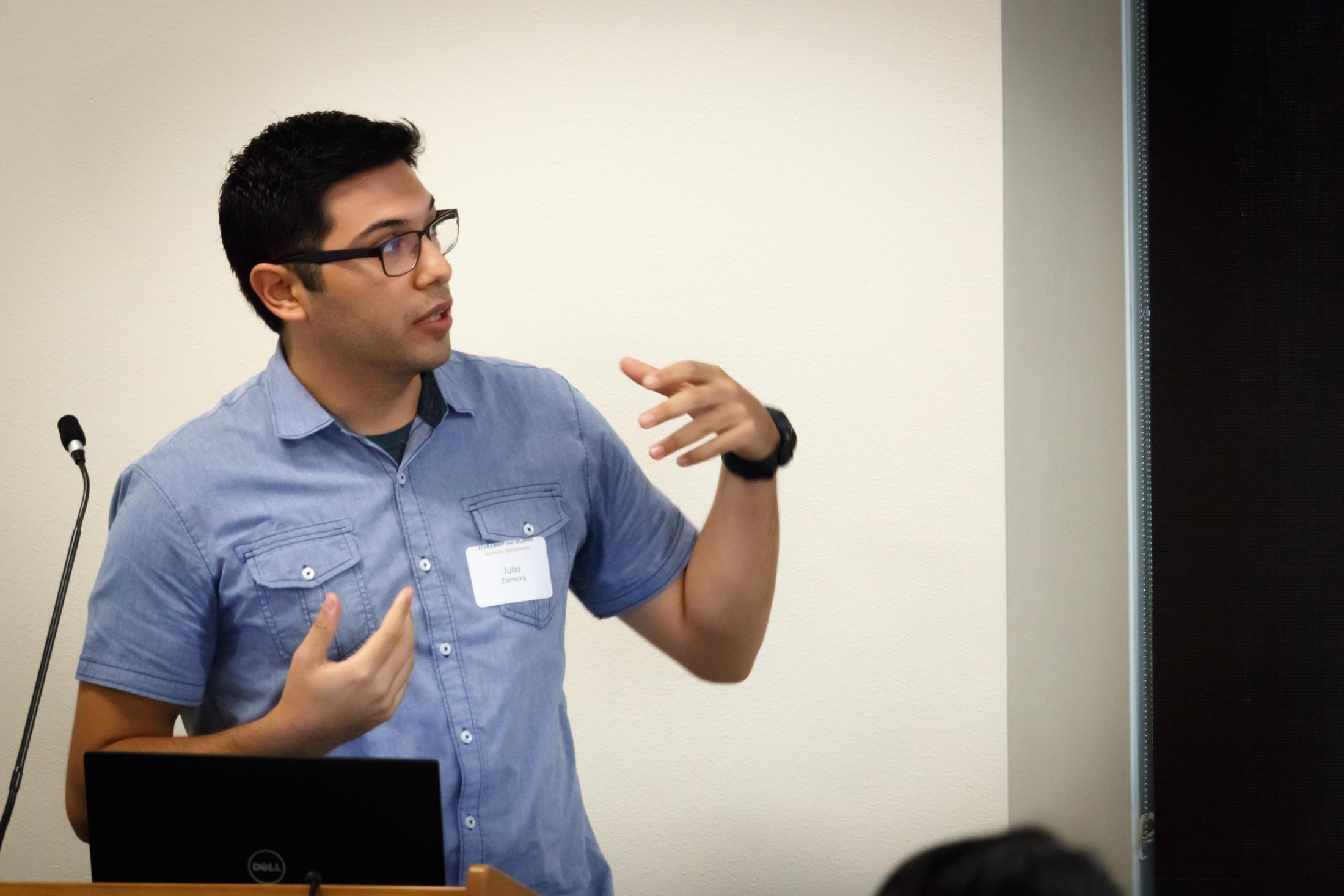 The California Alliance for Minority Participation (CAMP) and Mentorships for Undergraduate Research Participants in the Physical and Mathematical Sciences participants completed their Summer Program of faculty-mentored research and enrichment activities by presenting their work at the 2018 CAMP & MURPPS Summer Symposium on August 17, 2018.  Guests were treated to the following research presentations:
Alexandria Falcon, Senior, Cell Biology - CAMP Member
Faculty Sponsor: Dr. Paul Hagerman, Biochemistry and Molecular Medicine
Understanding the Molecular Mechanisms of Fragile X-associated Tremor/Ataxia Syndrome
Sarahi Granados, Junior, Aerospace Science and Mechanical Engineering - CAMP Member
Faculty Sponsor: Dr. Eduardo da Silva Neto, Physics
Electronic Properties of Quantum Materials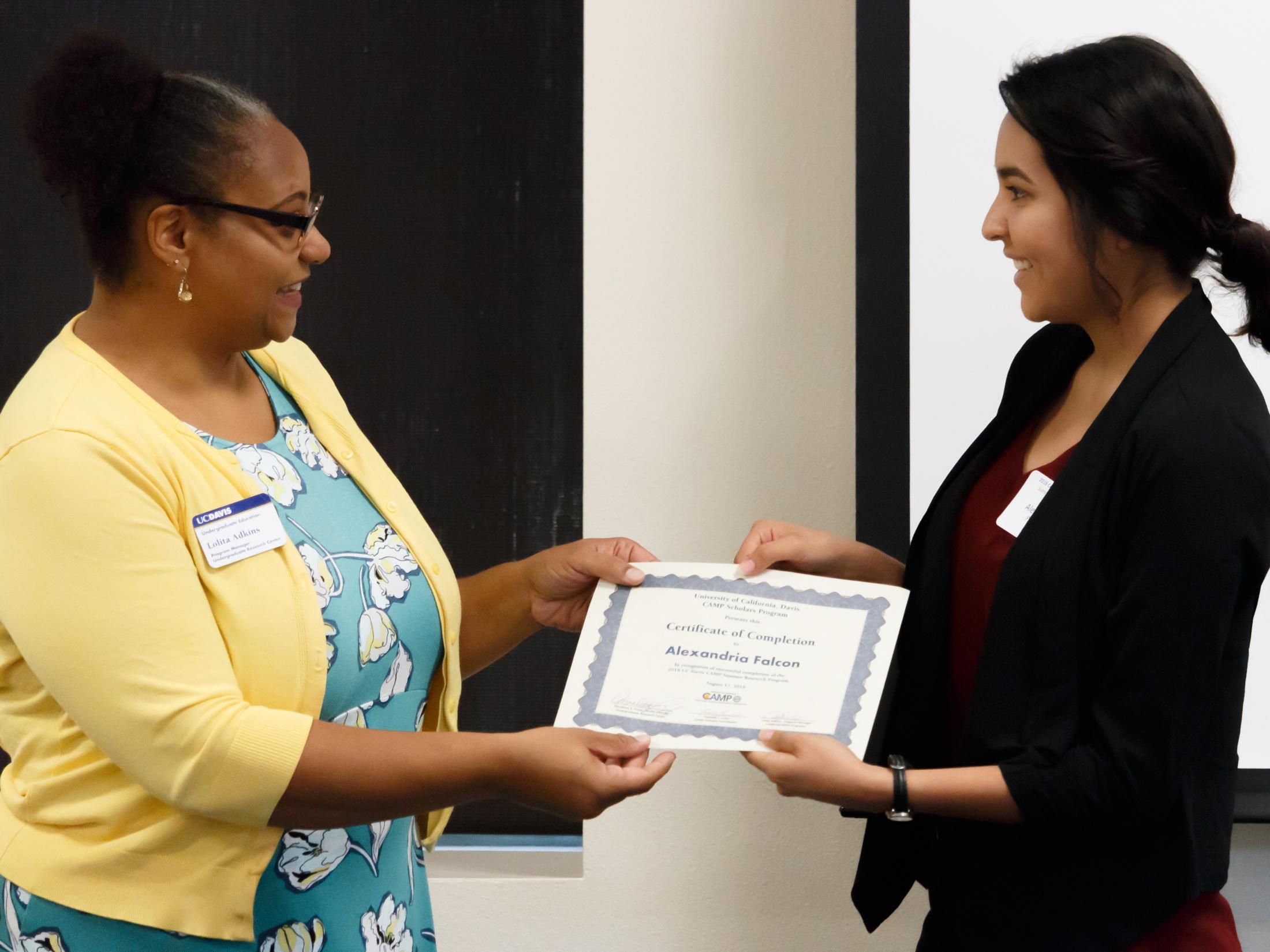 Bin Lama, Sophomore, Computer Science - MURPPS Member
Faculty Sponsor: Dr. David Wittman, Physics
Deriving the Age of the Universe using Supernova Data
Kelly Morales, Senior, Biochemistry and Molecular Biology - CAMP Member
Faculty Sponsor: Dr. Pamela Lein, Molecular Biosciences
Neurotoxic Effects of Acute TETS Exposure in Zebrafish
Julio Zamora, Senior, Chemical Engineering - CAMP Member
Faculty Sponsor: Dr. Jesús Velázquez, Chemistry
Can Implementing Monoclinic Mesoporous Hafnia Monoliths be Selective Towards
the Removal of Crude Oil in Aqueous Solution for Water Remediation Applications? 
Applications are currently being accepted for the CAMP and MURPPS programs for the current academic year and the deadline is Monday, October 22, 2018, 11:59 p.m.  The CAMP program provides monetary and academic enrichment support for underrepresented, undergraduate students in STEM fields.  The MURPPS program targets underrepresented undergraduate students in the mathematical and physical sciences.  For more information on participant qualifications and application, program description and requirements for these and other , please visit our Programs/Funding page or come to the Info Session on October 10, 2018, 1:30-2:30, Student Community Center MPR.  Contact:  Program Manager, Lolita Adkins,  lrnelson@ucdavis.edu.